I have been racking my brain for days trying to come up with a subject that starts with the letter "U" to post to Alphabe Thursday. Going through my archives, all I could find was a lot of pictures of umbrellas. Now that is certainly a "U" word but I was afraid that particular would would be well represented and wanted something different. Last night I asked the Old Salt if he had any suggestions. After a few minutes thought he said "Why don't you use that ugly dog. You know, the one your brother had."
It took me a while to locate the photos among the thirty plus thousand pics in my archives that are still not labeled. But, here he is ............
my brother's ugly dog. His name is Fang and I regret to say that he has passed away since this photo was taken. Fang, was certainly the ugliest house pet I have ever known, but, I can assure you he was also the best watch dog that ever lived. My brother lives in a remote wooded area on a gravel road and people are a always using that area to dump their unwanted animals. So, that is how Bill came to adopt Fang as a youngster. He was repaid by many years of faithful devotion. No one wanted to mess with Fang and as a result intruders were chased off on several occasions. He is certainly missed by my brother and his family and they have not found another dog that makes them feel as safe in their remote area.
While searching for Fang's photo I came across this ugly telephone. I found it in a local resale shop. Hoping to use it on one of the red memes. But, I think it works better here.
I am linking this post to Alphabe Thursday.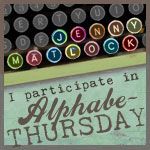 To check out the other participants take on the letter of the week visit Jenny Matlock and her friends by clicking on the icon above.