I noticed on a blog I follow, that Jenny Matlock's meme, Alphabe Thursday is featuring the letter "H" this week. I felt that was an omen telling me I should participate with the following photo that I captured a few weeks ago during a drive in the country.
Why? Might be your question. My answer would be because it contains four words that begin with the letter H. Can you spot them?
It is a
H
illside covered in
H
ay-bales,
H
eadstones and corn
H
usks.
This country cemetery sits on a small knoll in the curve of highway 94 in Warren County. The town of Pinckney mentioned on the sign has slowly disappeared due to the constant flooding of this area by the Missouri River that runs nearby. In fact this sign may be the last reminder that it was once here.
The cemetery is certainly still in use today because there was a fresh grave the day we visited.
Off across the cornfield sits the old church.
I am linking this post to Alphabe Thursday.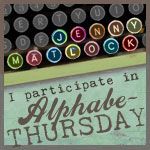 To check out the other participants take on the letter of the week visit Jenny Matlock and her friends by clicking on the icon above.