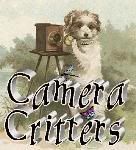 Camera Critters is a meme that gives us a chance to display all those great shots of the furry, feathered, or reptilian creatures we encounter in our life. Today I want to share a rather rare duck. Or at least I think so. I captured this unique creature during an outing to the park yesterday. Lions lake has an ever-changing group of water fowl depending on the season. It also has a small group of ducks that make it their permanent home. But, it was the first time I saw one with this multi colored markings.
This is a very popular meme and the list of participants is lengthy so visit
here
to get your fill of all those cute (and not so cute) critters that share out space.